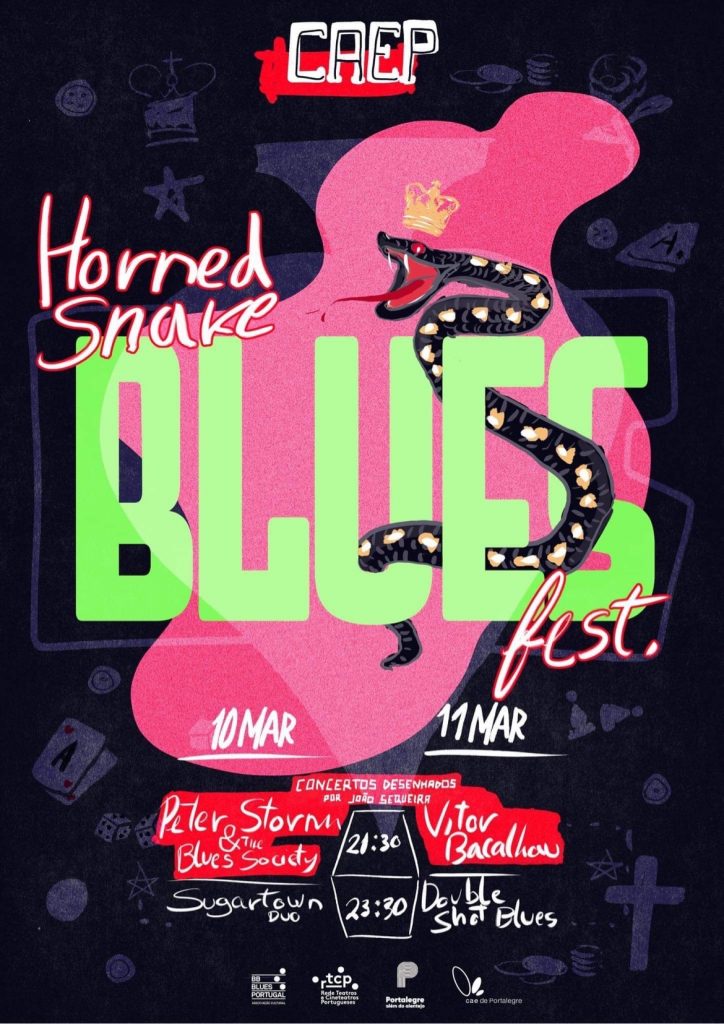 O Blues regressa a Portalegre esta semana. A edição 2023 do Horned Snake Blues Fest conta este ano com a produção da Associação BB Blues Portugal, em parceria com o Município de Portalegre e a Associação Cultural Portalegre Core.
O cartaz é composto exclusivamente por bandas nacionais e representa o que de melhor se faz de Blues em Portugal.
Os concertos realizam-se no Centro de Artes e Espectáculo de Portalegre, no pequeno auditório, mas também no espaço de café concerto.
10 de março – Sexta
Blues | PA e CC | 5€ | M/6 anos
Peter Storm & The Blues Society – 21.30h – Pequeno Auditório (concerto desenhado)
Renovados em 2019, Peter Storm & The Blues Society apresentam um concerto versátil e intimista, com temas reais, de histórias reais, presentes no seu álbum de originais, "First", de 2020, bem como novos temas do segundo álbum em preparação
Com reconhecido som e estilo muito próprio e distinto, transportam também o público ao lado mais clássico e conservador do Blues. As suas aclamadas canções originais, ou as recriações dos clássicos de James Harman, Pistol Pete e Roy Hytower, Albert King, Lonnie Brooks, Buddy Guy, BB King, Magic Slim, Jimmy Burns, etc., transformam o concerto numa verdadeira viagem musical.
Double Shot Blues – 23.30h – Café-Concerto
Ruben El Pavoni e Pedro Teixeira são os Double Shot Blues. E cada concerto é uma festa.
Voz, guitarra, contrabaixo e harmónica trazem-nos um repertório que passa pelo blues, clássicos de rock n' roll, rockabilly, desde Elvis, Bill Haley, Johnny Cash, entre muitos outros.
11 de março – Sábado
Blues | PA e CC | 5€ | M/6 anos
Vítor Bacalhau – 21.30h – Pequeno Auditório (concerto desenhado)
O algarvio Vítor Bacalhau é atualmente um dos nomes mais sonantes no rock & blues em Portugal. O talentoso cantor, guitarrista e compositor começou a sua carreira na música com apenas 15 anos de idade, e em 2010 mudou-se para Londres, onde depois de inúmeras experiências musicais e pessoais, se tornou bem claro qual o caminho que iria traçar.
Conta já com quatro discos editados, aclamados pela crítica especializada e pelos seus pares.
O seu último trabalho, "I Am Leaving", EP de 2019, é um disco onde são exploradas mais do que nunca as sonoridades mais rootsy e bluesy. Ao vivo, apresenta-se em formato Power Trio, onde a guitarra, a voz, e as canções do artista assumem um papel central.
Sugartown Duo – 23.30h – Café-Concerto
Sugartown Duo é uma dupla formada por Kristina Zurauskaite e João Pedro Lobo, que revisita os clássicos do início do século passado, em especial as vozes femininas desse período dourado.
Um formato acústico, intimista, mas com energia contagiante, que mistura os clássicos do blues com baladas de jazz, passando pelo swing ou bossa nova.
Em 2020, o Sugartown Duo começou a trabalhar nas suas músicas originais. O duo já lançou dois singles – "1001 Nights", com a participação do João Cabrita e "Kitchen Dancing".