Enquanto decorre a votação do Júri para apuramento dos quatro finalistas do Portugal Blues Challenge, estão já disponíveis os bilhetes para o evento na Ticketline através do Link https://ticketline.pt/evento/portugal-blues-challenge-68477, na sua rede de parceiros ou na Bilheteira do Fórum Cultural José Manuel Figueiredo.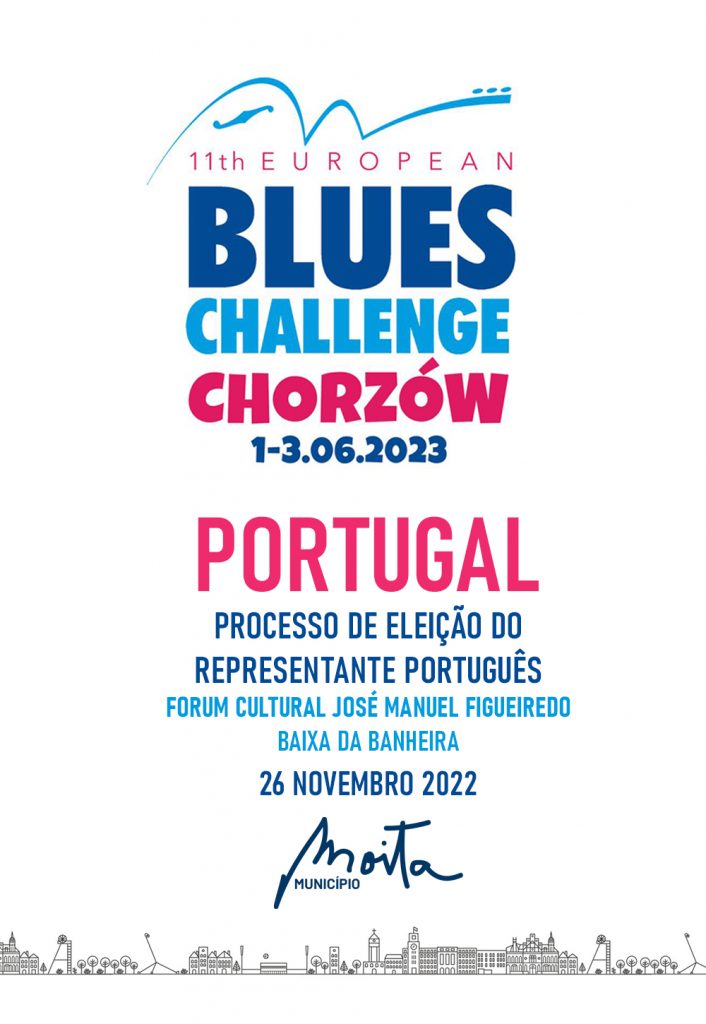 O Portugal Blues Challenge, realiza-se no próximo dia 26 de Novembro pelas 21:30 no auditório do Fórum Cultural Jose Manuel Figueiredo na Baixa da Banheira - Moita. Recorde-se que se trata da primeira edição deste evento, e que o vencedor representará Portugal no European Blues Challenge em Junho próximo em Chorzów na Polónia.
A receita do evento reverterá integralmente para o apoio à deslocação do vencedor a Chorzów, ajudando desta forma a mitigar os custos inerentes à participação neste importante concurso.
Estão neste momento em concurso 9 bandas:
Candidatura #1 - Mr Lindh and Melro Mau
Candidatura #2 - The Mirandas
Candidatura #3 - John Wolf
Candidatura #4 - The Jetlaggers Blues Band
Candidatura #5 - Taboo Blues Band
Candidatura #6 - The Smokestackers
Candidatura #7 - Mabelle Blues Band
Candidatura #8 - Mississippi Gumbo Blues Band
Candidatura #9 - Pavoni & The Moonshine Tones
A Associação BB Blues Portugal é responsável pelo processo de seleção do representante nacional ao European Blues Challenge desde o ano de 2015.
Ao longo dos últimos anos, já representaram Portugal bandas como: Budda Power Blues, Messias & The Hot Tones, Vitor Bacalhau, Delta Blues Riders e Peter Storm & The Blues Society.