A 9ª edição do BB Blues Fest começa já na próxima quinta-feira, dia 8 de outubro. A partir das 21:30h, sobem ao placo do Fórum Cultural José Manuel Figueiredo, na Baixa da Banheira, o português Fast Eddie Nelson e os espanhóis José Luis Pardo and The Mojo Workers. Também no Auditório do Fórum, no dia 10 de outubro, às 21:30h, atuam o português The Legendary Tigerman (one man band), com o convidado especial João Cabrita, e Greg Izor (EUA) & Emilio Arsuaga (ES). Os bilhetes (diário: 15 euros; Passe Festival 2 dias: 20 euros) estão à venda na Bilheteira do Fórum Cultural José Manuel Figueiredo.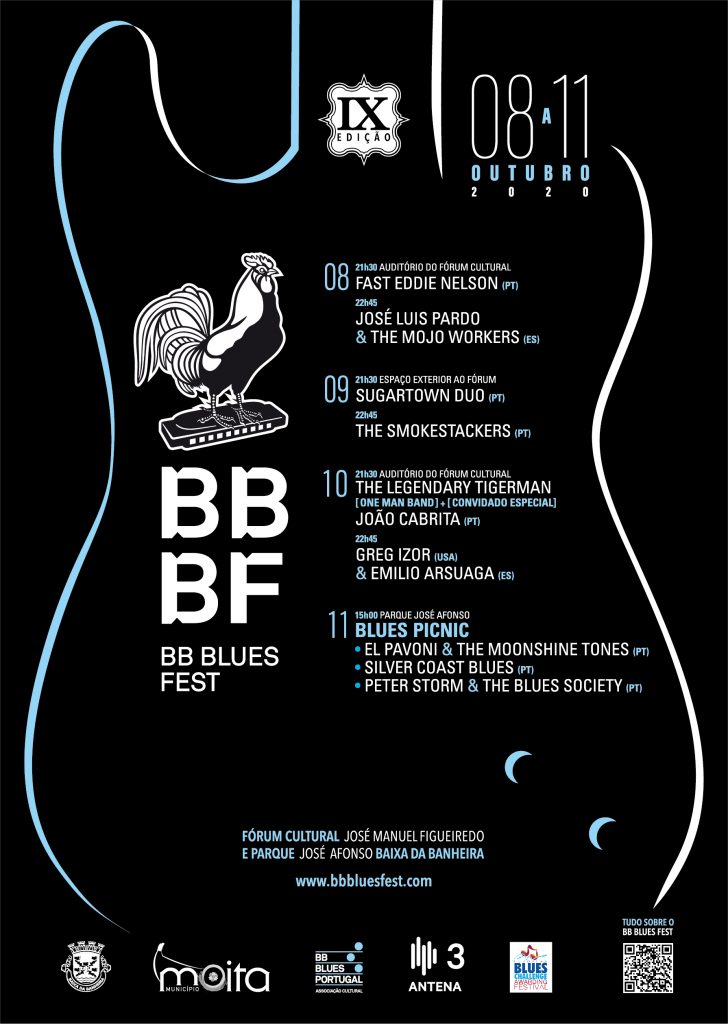 Nos dias 9 e 11 de outubro, os concertos são ao ar livre e têm entrada gratuita, mediante marcação prévia através dos formulários https://forms.gle/2FTEFkTx66a2S3En9 (para o dia 9) e https://forms.gle/pwMCWjQjBaJiWU9Z7 (para o dia 11).
O espaço exterior do Fórum recebe, no dia 9, a partir das 21:30h, Sugartown Duo (PT) e The Smokestackers (PT). O já tradicional Blues Picnic, no dia 11, às 15:00h, no Parque José Afonso, conta com as atuações de El Pavoni & The Moonshine Tones (PT), Silver Coast Blues (PT) e Peter Storm & The Blues Society (PT).
Visando a segurança de todos, o BB Blues Fest, tanto no auditório como nos concertos em espaço exterior, irá seguir medidas rigorosas, cumprindo todas as normas da Direção Geral de Saúde e garantindo todas as condições para uma experiência segura.
Acompanhe a 9ª edição em: www.bbbluesfest.com; www.cm-moita.pt
www.ufbbva.pt; www.bbbluesportugal.com; www.facebook.com/bbbluesfest e www.facebook.com/cmmoita
O BB Blues Fest resulta de uma parceria entre a Associação BB Blues Fest, a Câmara Municipal da Moita e a União de Freguesias da Baixa da Banheira e Vale da Amoreira.
Reserva de Bilhetes
Fórum Cultural José Manuel Figueiredo
Rua José Vicente, 2835-134 Baixa da Banheira

Horário da Bilheteira
De terça-feira a sábado, das 14:30h às 19:30h
Dias de espetáculo: Uma hora antes do início do espetáculo ou sessão; encerra aquando do início do espetáculo ou sessão.
Os bilhetes podem ainda ser reservados, através do telefone 210 888 900, no horário de funcionamento da bilheteira. As reservas têm que ser levantadas, no máximo, na véspera do espetáculo/sessão, com um limite de cinco bilhetes por reserva.