A apresentação do cartaz completo da 7ª edição do BB Blues Fest vai acontecer a 12 de maio, a partir das 21:30h, no auditório do Fórum Cultural José Manuel Figueiredo, na Baixa da Banheira, numa noite de celebração do Blues, com o português Vítor Bacalhau e o americano Chris O'Leary em palco. Para já, estão confirmados para esta edição Frankie Chavez, John Németh e Ian Siegal.
Considerado por muitos como um dos mais promissores nomes da nova vaga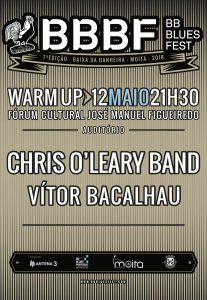 de blues rock, Vítor Bacalhau foi o vencedor da última competição nacional e representante português no European Blues Challenge, que decorreu na Noruega, onde arrecadou o terceiro lugar. Nesta noite, volta ao Fórum Cultural com o seu novo álbum "Cosmic Atraction".
Chris O'Leary é um reconhecido vocalista e harmonicista americano. Durante anos, foi o vocalista e front man da banda The Barnburners, cujo vocalista, Levon Helm, foi vencedor de um Grammy. Durante seis anos, pisou os principais palcos americanos, tendo tocado também com Jeff Healey, The Fabulous Thunderbirds, Albert Lee e os grandes James Cotton & Hubert Sumlin, entre outros. Em 2011, foi reconhecido como "Best New Artist Debut CD", nos Blues Blast Award, tendo sido também nomeado, no mesmo ano, para os Blues Music Awards, na categoria "Best New Artist Debut". Faz a sua estreia em Portugal, no Warm Up do BB Blues Fest, com a sua banda americana.
Os bilhetes para o Warm Up do BB Blues Fest, no valor de 10 euros, estão disponíveis na rede Ticketline e podem também ser adquiridos no próprio dia, a partir das 20:30h, no Fórum Cultural.
A 7ª edição VII BB Blues Fest, que vai decorrer, entre 31 de maio e 3 de junho, em vários espaços do Fórum Cultural e também no Parque José Afonso, na Baixa da Banheira, resulta de uma organização conjunta entre a Associação BB Blues Portugal, a Câmara Municipal da Moita e a União de Freguesias da Baixa da Banheira e Vale da Amoreira.
Acompanhe o BB Blues Fest nas várias plataformas disponíveis:
- www.facebook.com/bbbluesfest
- http://twitter.com/BBBluesPortugal
- www.youtube.com/channel/UCv-LKLXWxaDVP9opo-AjghA
- www.facebook.com/cm-moita.pt