O cartaz do BB Blues Fest – 7ª edição já está fechado e, como esperado, aposta em grandes nomes nacionais e internacionais do Blues.
Entre 31 de maio e 3 de junho, vão passar pelos vários espaços do Fórum Cultural José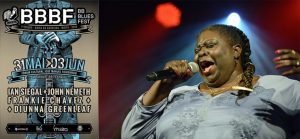 Manuel Figueiredo (café-concerto e auditório, nos dias 31 de maio, 1 e 2 de junho) e pelo Parque José Afonso (dia 3 de junho, no Blues Picnic) Tòfol Martinez (ESP), Ian Siegal (UK), John Németh (EUA), Frankie Chavez (PT), Diunnna Greenleaf (EUA), Hokum Blues (PT), The Smokestackers (PT), Them Sacks'a Potatoes (PT) e The Ramblers (PT).
Os bilhetes, no valor de 10 euros/dia para os dias 1 e 2 de junho (os dias 31 de maio e 3 de junho são gratuitos), estão já disponíveis na rede Ticketline e podem também ser adquiridos no próprio dia, a partir das 20:30h, no Fórum Cultural.
O BB Blues Fest – 7ª edição resulta de uma organização conjunta entre a Associação BB Blues Portugal, a Câmara Municipal da Moita e a União de Freguesias da Baixa da Banheira e Vale da Amoreira.
Programa do BB Blues Fest – 7ª edição:
31 de maio – Café-Concerto
22:00h – Tòfol Martinez (Espanha)
1 de junho – Auditório
21:30h – Ian Siegal (Reino Unido)
23:00h – John Németh (EUA)
2 de junho – Auditório
21:30h – Frankie Chavez (Portugal)
23:00h – Diunna Greenleaf (EUA)
3 de junho – Blues Picnic – Parque José Afonso
15:00h – Hokum Blues (Portugal)
16:00h – The Smokestackers (Portugal)
17:00h – Them Sacks'a Potatoes
18:00h – The Ramblers (Portugal)
Acompanhe o BB Blues Fest nas várias plataformas disponíveis:
– www.facebook.com/bbbluesfest
– http://twitter.com/BBBluesPortugal
– www.youtube.com/channel/UCv-LKLXWxaDVP9opo-AjghA
– www.facebook.com/cm-moita.pt