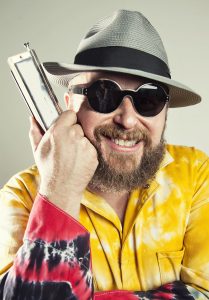 Foi durante a Blues Night by BBBF de abril, que se realizou no dia 13, no auditório do Fórum Cultural José Manuel Figueiredo, na Baixa da Banheira, que foram anunciados mais dois nomes do cartaz do VII BB Blues Fest: Ian Siegal e John Németh vão assim juntar-se a Frankie Chavez nesta edição do festival de blues.
John Németh (USA)
Diretamente de Memphis, Tennessee, um dos mais entusiasmantes e originais bluesman dos últimos anos, em estreia absoluta em Portugal.
John Németh já atingiu um estatuto entre os mais reconhecidos intérpretes e harmonicistas da cena blues e soul americana. Dinâmico, criativo, consolidou um estilo muito próprio, quebrando barreiras entre os diferentes estilos ou géneros.
O seu som é contemporâneo, único e a sua presença em palco desconcertante.
Além de diversas e regulares nomeações, conquistou já alguns importantes reconhecimentos: Soul Blues Album of the Year (2015), Soul Blues Male Artist of the Year (2014), Living Blues Vocalist of the Year (2010), Blues Blast Magazine Best Debut Artist Recording and The Sean Costello Award.
Apresenta-se no BB Blues Fest com a sua banda americana, para fechar o dia 1 de junho, num concerto que se advinha excitante.
Ian Siegal (UK)
Ian Siegal é uma figura de referência do panorama do blues britânico dos dias atuais.
Cantor, compositor, guitarrista e, sobretudo, contador de histórias, faz como ninguém a ponte entre a tradição britânica e as raízes profundas da música americana, sendo dos poucos a conseguirem o mesmo nível de reconhecimento dos dois lados do atlântico.
Um dos primeiros a ver o seu nome na British Blues Hall of Fame, coleciona nomeações e galardões: Best Contemporary Album: Blues Awards USA (nomeado em 2012 e 2013), Best Album, British Blues Awards (2013), Best Male Vocalist (2011, 2012 e 2013) e European Blues Awards (2013), Best Song, British Blues Awards (2013), Best Acoustic Artist, British Blues Awards (2012).
Abre a primeira noite de auditório da VII Edição do BB Blues Fest, num regresso ao palco onde fez, em 2015, o Warm-Up do Festival, no mesmo formato, solo acústico.
O cartaz completo vai ser conhecido na noite de 12 de maio, pelas 21:30h, no Warm Up do VII BB Blues Fest, no auditório do Fórum Cultural. A protagonizar esta noite de blues que antecede o festival vão estar o português Vítor Bacalhau, considerado por muitos um dos mais promissores nomes da nova vaga de blues rock, vencedor da última competição nacional, e representante português no European Blues Challenge que decorreu na Noruega e onde arrecadou o terceiro lugar, e Chris O'Leary, reconhecido vocalista e harmonicista americano.
Os bilhetes para o Warm Up do BB Blues Fest, no valor de 10 euros, estão disponíveis na rede Ticketline e podem também ser adquiridos no próprio dia, a partir das 20:30h, no Fórum Cultural.
O VII BB Blues Fest, que vai decorrer, entre 31 de maio e 3 de junho, em vários espaços do Fórum Cultural e também no Parque José Afonso, na Baixa da Banheira, resulta de uma organização conjunta entre a Associação BB Blues Portugal, a Câmara Municipal da Moita e a União de Freguesias da Baixa da Banheira e Vale da Amoreira.
Acompanhe o BB Blues Fest nas várias plataformas disponíveis:
- www.facebook.com/bbbluesfest
- http://twitter.com/BBBluesPortugal
- www.youtube.com/channel/UCv-LKLXWxaDVP9opo-AjghA