É com muita satisfação que anunciamos a parceria entre a Associação BB Blues Portugal e o município da Guarda.
O Festival de Blues está de regresso à Guarda e este ano acontece no coração da cidade mais alta, a Praça Luís de Camões. Entre 11 e 14 de agosto, o centro histórico da cidade vai receber um concerto por noite com uma programação com diferentes estilos de Blues.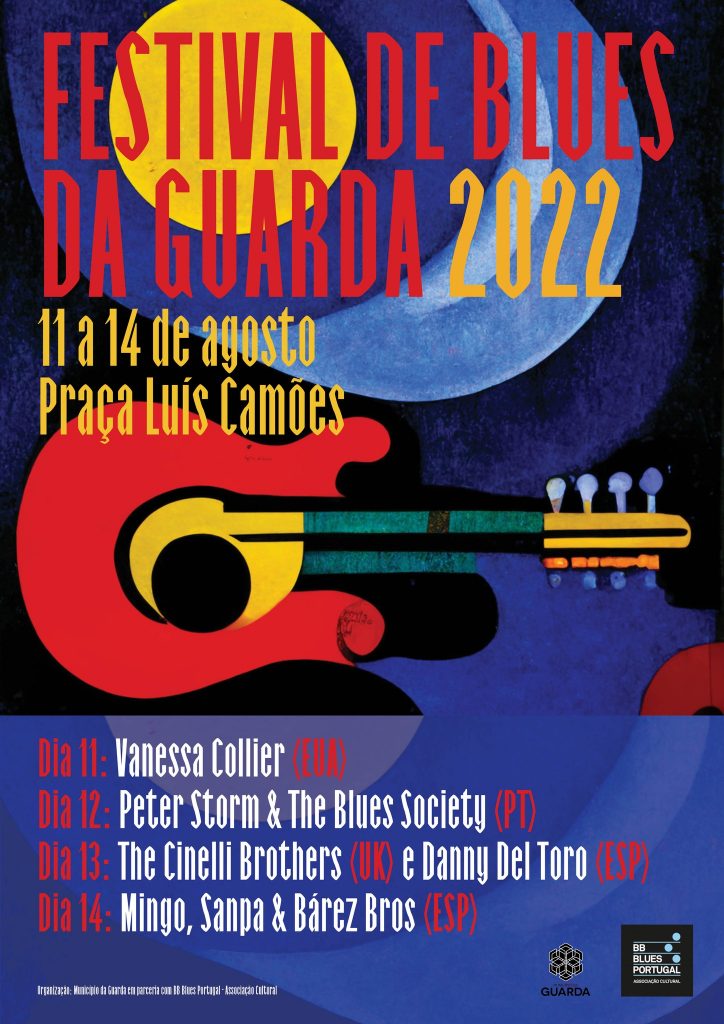 A iniciativa arranca já no dia 11 de agosto, quinta-feira, com o espetáculo de Vanessa Collier (EUA), um dos mais excitantes nomes da nova geração do Blues Norte Americano. Multipremiada, é dona de uma excelente voz e distingue-se pela utilização de um instrumento muito apreciado, o Saxofone, pela qual tem ganho vários prémios. Acompanhada pela sua banda americana, os seus concertos são cativantes, cheios de energia. A artista faz a sua estreia em Portugal, na Guarda. 
Seguem-se na sexta-feira, dia 12 de agosto, Peter Storm & The Blues Society (PT), a banda portuguesa de blues do momento. Representaram Portugal no recente European Blues Challenge em Malmo na Suécia. Com reportório próprio, fruto do seu primeiro álbum de originais e mais alguns temas mais recentes, tudo o que tocam soa muito genuíno.
Para sábado, dia 13 de agosto, o palco da Praça Luís de Camões está reservado para os The Cinnelli Brothers (UK) feat. Danny Del Toro (ESP). Uma das bandas do momento no Reino Unido. Nos últimos três anos têm vindo a ser consistentemente nomeados como 'Blues Band Of The Year' nos UK Blues British Awards. A banda vai à raiz do Blues de Chicago dos anos 60 e 70 e dão um toque de modernidade contagiante. Nesta noite fazem-se acompanhar de Danny Del Toro como convidado.
O cartaz do Festival de Blues fecha no domingo, dia 14 de agosto, com o concerto do músico Mingo, Sanpa & The Barez Bros vindos da vizinha Espanha. Recentes terceiros classificados no European Blues Challenge em Malmo, são uma superbanda Espanhola com uma reunião de duas gerações.
Um excelente cartaz, ao nível do que de melhor se faz por toda a Europa. Todos os concertos do festival decorrem na Praça Luís de Camões e têm início marcado para as 21h30 e a entrada é livre.
O evento é realizado em parceria entre o Município da Guarda, através do Teatro Municipal da Guarda, e a Associação BB Blues Portugal.