A Associação BB Blues Portugal apoia a edição de 2019 do Festival de Blues da Guarda, que se realiza de 31 de Julho a 3 de Agosto.
O cartaz está divido entre diversos palcos exteriores de entrada livre.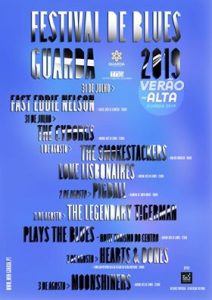 Sempre ao final da tarde (18:00) o blues chega em pequenos sets acústicos com os seguintes nomes: Fast Eddie Nelson, The Smokestakers, Pigball e Hearts And Bones.
À noite às 22:00, sempre no Jardim José de Lemos, temos: The Cyborgs, Lone Lisbonaires, The Legendary Tigerman Plays The Blues e Moonshiners.
Óptima oportunidade para todos os amantes do Blues rumarem às terras altas.