O BB Blues Fest regressa, este ano, à Baixa da Banheira - Moita, entre os dias 30 de maio e 2 de junho.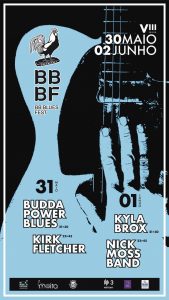 Esta oitava edição aposta uma vez mais na elevada qualidade do seu cartaz, apresentando os melhores nomes do blues português e internacional, numa simbiose perfeita que celebra as raízes deste género musical.
Budda Power Blues e Kirk Fletcher, a 31 de maio, e Kyla Brox e Nick Moss Band, a 1 de junho, são os nomes principais do programa. No dia 2 de junho, num registo mais descontraído, realiza-se o Blues Picnic no Parque José Afonso.
Programa – Palco Principal
Dia 31 maio
Budda Power Blues (PT)
A mais reconhecida banda de blues nacional celebra 15 anos com uma tour muito especial. Durante este ano, visitam os locais marcantes na história da banda que contam, no trajeto, com o projeto "The Blues Experience", com a reconhecida cantora Maria João, acompanhando também Shirley King, a filha do lendário BB King. O BB Blues Fest não podia deixar de fazer parte deste lote restrito de palcos que acolhem esta "Fifteen long years Tour".
Kirk Fletcher (USA)
O extraordinário guitarrista Kirk Fletcher traz a sua banda em estreia absoluta, em Portugal. Nomeado para "Contemporary Blues Álbum", nos Blues Music Awards, este reconhecido artista é membro ativo dos The Manish Boys.
1 de junho
Kyla Brox (UK)
Foi vencedora do recente "European Blues Challenge 2019", que decorreu em abril, em São Miguel, nos Açores. Nascida no seio de uma família de grandes músicos, apresenta a sua voz quente e doce acompanhada pela sua banda.
Nick Moss Band (USA)
É a banda do momento. O reconhecido guitarrista americano está nomeado para diversas categorias nos "Blues Music Awards" para "Album of the Year", "Band of the Year", "Traditional Blues Album" e "Traditional Male Blues Artist". Apresenta o seu disco High Cost Of Low Living e vem acompanhado pela sua 'super' banda, incluindo Dennis Gruenling, na harmónica e voz, e Rodrigo Mantovani, no baixo.
O programa completo:
Dia 30 de Maio - Vila Rosa - Alhos Vedros - 21:30 - King Blues & Turbo Dog - (Entrada Livre)
Dia 31 Maio - Auditório do Fórum Cultural José Manuel Figueiredo - 21:30 - Budda Power Blues (PT) - 22:45 - Kirk Fletcher (USA)
Dia 01 de Junho - Auditório do Fórum Cultural José Manuel Figueiredo  - 21:30 - Kyla Brox (UK) - 22:45 - Nick Moss Band (USA)
Dia 02 Junho - Blues Picnic - Parque José Afonso -
15 h - Dog's Bollocks (PT)
16 h - Johnny Boy Electric Band (PT)
17 h - Elsa Frias & MaBelle Band - participante do último The Voice Portugal (PT)
18h - BBBF All Stars (PT)
Bilhetes para 31 de Maio e um de Junho: diário – 15 euros | Passe Festival 2 dias – 20 euros (dias 31 de maio e 1 de junho)
Organização: BBBP – Associação BB Blues Portugal – em parceria com a Câmara Municipal e União de Freguesias de Baixa da Banheira e Vale da Amoreira
Mais informações sobre a 8ª edição em:
www.bbbluesportugal.com
www.facebook.com/bbbluesfest
www.facebook.com/cmmoita