O Cine-Teatro de Alcobaça João D'Oliva Monteiro apresenta no próximo dia 17 de fevereiro, pelas 21h30, o concerto de Messias and the Hot Tones, uma das principais referências nacionais do Blues.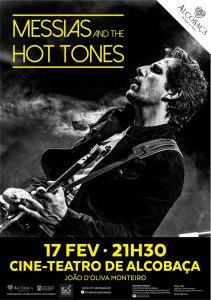 Messias (autor, vocalista e guitarrista), teve temas seus no top 10 da revista
internacional "Blues Matters". Projetando-se para digressões em Nova Iorque, Cannes, Kiev, Odessa, Madrid, Cáceres, etc...
Em 2017 o seu trabalho foi selecionado para representar Portugal no European Blues Challenge em Horsens - Dinamarca.
Uma noite que promete o melhor Blues nacional ao vivo em Alcobaça.
O concerto tem o apoio da Associação BB Blues Portugal.
Bilhete: 8€
descontos: 20% estudantes, M/65
e grupos organizados de 10 ou mais
Duração: 90 minutos | M/6