Os Hearts and Bones vão protagonizar a Blues Night by BBBF de janeiro, com data marcada para 20 de janeiro, às 22:00h, no Café-concerto do Fórum Cultural José Manuel Figueiredo, na Baixa da Banheira.
Hearts and Bones são Petra Pais e Luís Ferreira, fundadores de uma das mais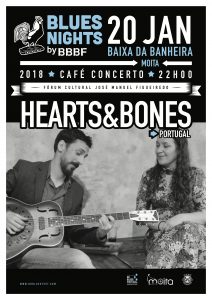 reconhecidas bandas de blues nacionais, a Nobody´s Bizness, juntos em dueto e em visita ao blues e à folk norte americana.
Voz, guitarra e décadas de histórias em canção é o que trazem ao público com a paixão que os tem movido, sempre a prestar homenagem aos seus heróis, assim como os seus próprios temas escritos ao longo de mais de uma década de parceria, no palco e fora dele. De Robert Johnson a Patsy Cline, de Paul Simon a Neil Young, Hearts and Bones partilham o amor à música num formato intimista e cru, em que vagueiam, tanto os fantasmas do Mississipi, como os do Tejo que os viu crescer.
As Blues Nights by BBBF são promovidas pela Associação BB Blues Portugal, em parceria com a Câmara Municipal da Moita e a União de Freguesias da Baixa da Banheira e Vale da Amoreira. Os bilhetes, no valor de 5 euros, estão disponíveis no próprio dia, no local, a partir das 21:30h.
Lotação limitada à capacidade da sala.