Já estão disponíveis para compra os bilhetes para o warm-up do BB Blues Fest  de 2017, noite em que contará com a presença de uma banda muito especial, no auditório do Fórum Cultural José Manuel Figueiredo.
Vencedores do European Blues Challenge 2016 e semifinalistas do International Blues Challenge 2016, os noruegueses Eric "Slim" Zahl & The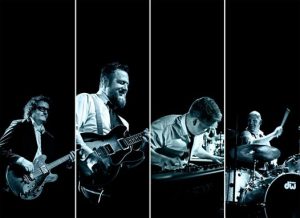 South West Singers vêm apresentando desde há mais de uma década um som fortemente influenciado pela música dos anos 50. Jump blues, rock 'n' roll e rockabilly misturados com humor e criatividade, explanados em discos como o surpreendente Daddy'O (2011) ou o aclamado pela crítica Chances Are Slim (2013). Expoentes da cena blues escandinava, esse viveiro de música antecipatória repleta de emoção e tendências experimentais, apresentam-se em estreia ao vivo em Portugal num concerto que se prevê singular e num momento em que preparam o seu terceiro álbum. Apropriadamente vestidos com gravatas, suspensórios e oxford shoes, os Eric "Slim" Zahl & the South West Singers estão prontos para a noite de apresentação do BB Blues Fest 2017!
Os bilhetes, podem ser adquiridos directamente na Bilheteira do Fórum Cultural José Manuel Figueiredo, ou através da Ticketline, online ou em qualquer um dos seus diversos pontos de venda (incluindo FNAC e Worten entre outros). O espectáculo está agendado para as 21:30 do próximo dia 13 de Maio.
Recorde-se que a 6ª edição do BB Blues Fest vai decorrer de 22 a 25 de junho, no Fórum Cultural José Manuel Figueiredo e Parque José Afonso, na Baixa da Banheira. Para esta edição de 2017 do BB Blues Fest, estão já confirmadas duas estreias em Portugal: O americano Lazy Lester, lenda do Swamp Blues, e os catalães Wax & Boogie.
Acompanhe a 6ª edição do BB Blues Fest nos vários canais de comunicação do festival:
– www.facebook.com/bbbluesfest
– http://twitter.com/BBBluesPortugal
- www.instagram.com/bbbluesportugal/
– www.youtube.com/channel/UCv-LKLXWxaDVP9opo-AjghA