E à sexta edição o BB Blues Fest acolhe um "old master"... Lazy Lester, nascido em 1933 no Louisiana, entre o Mississipi e o caminho-de-ferro, é um cantor e harmonicista com uma trajectória com quase sete décadas.
Vulto do swamp blues, influenciado pela música cajun e pelo zydeco, com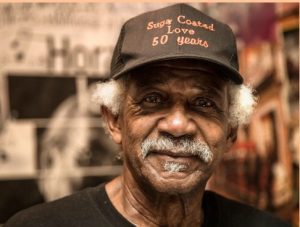 natural passagem pela Excello Records (de Nashville!), músico de Lightnin' Hopkins e de Lightnin' Slim, criador do doomy, autor de clássicos como "I'm a Lover Not a Fighter", "I Hear You Knockin", "Sugar-Coated Love" e "Bloodstains on the Wall" (com o produtor Jay Miller e alguns deles mais tarde regravados por bandas pop e rock da chamada British Invasion, incluindo The Kinks e Dave Edmunds), um concerto de Lester é um mergulho no mais fundo da tradição musical do sul dos Estados Unidos.
Oportunidade também para revisitar as suas singulares gravações dos anos 80 do século passado, como Lazy Lester Rides Again ou Harp & Soul.
Em tournée europeia e no palco do Fórum Cultural José Manuel Figueiredo, estará acompanhado pelos Lazy Boots, banda madrilena formada como tributo ao próprio artista, ao swamp blues e ao som Excello.
Recorde-se que a 6ª edição do BB Blues Fest vai decorrer de 22 a 25 de junho, no Fórum Cultural José Manuel Figueiredo e Parque José Afonso, na Baixa da Banheira. Para além de Lazy Lester estão também já confirmados para o BB Blues Fest 2017, os catalães Wax & Boogie, pela primeira vez em Portugal.
Acompanhe a 6ª edição do BB Blues Fest nos vários canais de comunicação do festival:
– www.facebook.com/bbbluesfest
– http://twitter.com/BBBluesPortugal
– www.youtube.com/channel/UCv-LKLXWxaDVP9opo-AjghA