Na próxima Blues Night By BBBF, a 11 de dezembro, pelas 21:30h, sobe ao palco do Fórum Cultural José Manuel Figueiredo, na Baixa da Banheira, Suzie and the Boys.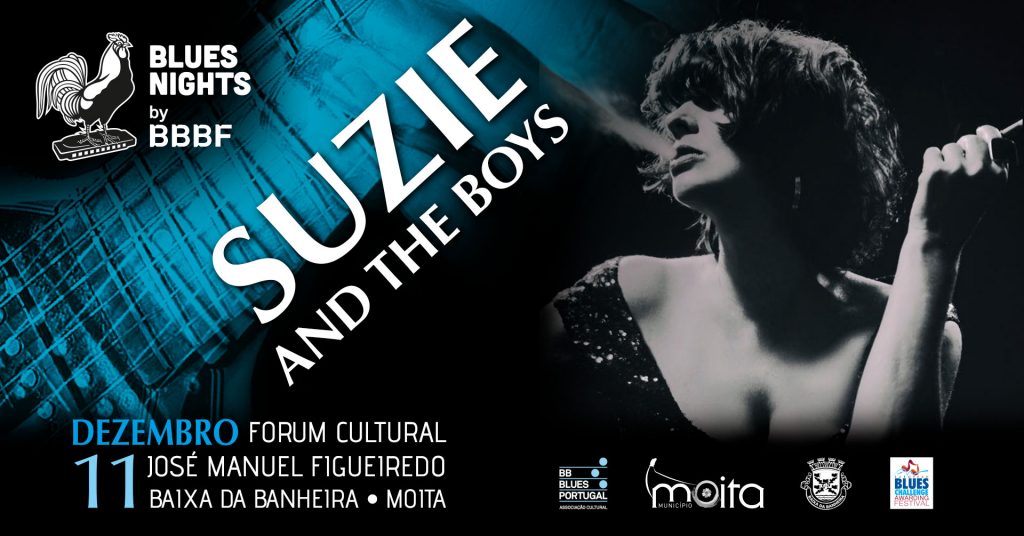 O projeto surge em 2018, quando Miss Suzie desafia Tiago Santos a criarem uma banda que junte a música a uma performance "cabarética". Esta era uma ideia que Miss Suzie, atriz, cantora e front lady deste projeto, tinha há vários anos, uma vez que, ao longo dos tempos, na sua carreira performativa, esteve muito ligada em diversas áreas a este submundo do cabaret, sendo algo que lhe é familiar e onde por várias vezes o representou no novo circo, teatro, cinema e em concertos com as suas prestações em bandas como Ena Pá 2000 e Irmãos Catita, chegando a atuar nos cabarés Maxime e Ritz Club.
Por sua vez, perante esta ideia de alguma forma inovadora no panorama musical, Tiago Santos, guitarrista da banda e músico fundador de diferentes projetos musicais, tais como Cool Hipnoise, Spaceboys e Cais Sodré Funk Connection, aceita o desafio. Juntos começaram a preparar a sonoridade do espetáculo, inspirada nos sons de outrora, entre as décadas de 40 e 60, misturaram Blues, Swing, Rock and Roll e Mambo e assim criaram um "cabaret sonoro".
Com o conceito criado, convidaram então Francesco Valente (baixo), Nuno Sarafa (bateria), Hugo Menezes (percussão), Fausto Ferreira (piano), Nuno Reis (trompete) e José Andrade (saxofone), músicos vindos de projetos tão distintos quanto os Terrakota, X-Wife, Farra Fanfarra, Fausto, entre outros. Assim nasceram os Suzie and the Boys.
Duração: 70 min.
Destinatários: Geral | M/6 anos
Bilhete: 8 euros
Organização: BBBP - Associação BB Blues Portugal, em parceria com a Câmara Municipal e União de Freguesias de Baixa da Banheira e Vale da Amoreira
Fórum Cultural José Manuel Figueiredo
Rua José Vicente, 2835-134 Baixa da Banheira
De terça-feira a sábado, das 14:30h às 19:30h
Dias de espetáculo: Uma hora antes do início do espetáculo ou sessão; encerra aquando do início do espetáculo ou sessão.
Os bilhetes podem ainda ser reservados, através do telefone 210 888 900, no horário de funcionamento da bilheteira. As reservas têm que ser levantadas, no máximo, à véspera do espetáculo/sessão, com um limite de cinco bilhetes por reserva.
Compra de bilhetes online:
http://ticketline.sapo.pt
http://pt-pt.facebook.com/cmmoita
E nos postos de venda aderentes: http://ticketline.sapo.pt/pagina/postosdevenda