As Blues Nights By BBBF recebem, a 8 de fevereiro, pelas 21:30h, no Fórum Cultural José Manuel Figueiredo, na Baixa da Banheira, Marco Cinelli & Danny Del Toro, com o opening act a ser assegurado por Elsa Frias & Mabelle Band.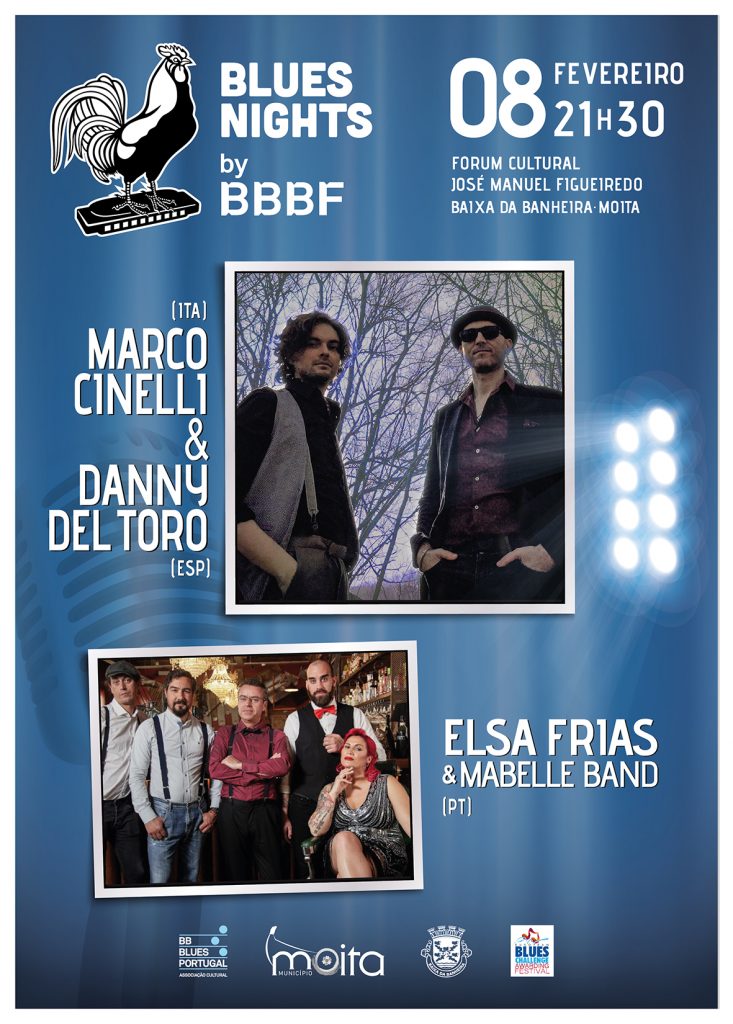 Marco Cinelli (ITA) & Danny Del Toro (ESP)
Marco e Danny, regressam aos palcos das Blues Nights By BBBF, para apresentar aquele que é provavelmente o álbum de blues acústico do ano, o magnifico Delta Overflowin', 100% Mississippi delta até ao osso.
Extraordinariamente acolhido pela crítica especializada, este álbum é o resultado da sua profícua colaboração e partilha de espírito criativo, qualidade e dedicado trabalho.
É um puro disco de blues no sentido mais profundo natural do termo. Com derivações ao gospel, ragtime, spirituals e jazz. Fala de amor e da vida, como é característico do blues.
Marco Cinelli, foi nomeado em 2018 best guitar player of the year pela Music Republic Magazine, tem actuado em vários palcos europeus como voz e guitarra da sua banda The Cinelli Brothers.
Danny Del Toro, tem uma atividade intensa quer atuado com a sua Del Toro Blues Band, quer atuando em dueto com alguns dos mais importantes nomes da cena de blues atual (Little G. Weeevil, Juian Burdock, Jonn Del Toro).
Elsa Frias & Mabelle Band (PT)
A abrir a noite, o público tem a oportunidade de rever Elsa Frias e a sua Mabelle Band, depois de terem passado no Blues Picnic de 2019.
A "Furacão" Elsa Frias, assim intitulada pela sua recente passagem no programa televisivo "The Voice Portugal 2018", experiente na sua arte do canto, já dava nas vistas como vocalista do seu projeto MaBelle Band desde 2013.
Elsa Frias & MaBelle Band nasceu em setembro de 2016, juntando-se ao grupo elementos chave: naipe de sopros, coros e teclas, que decidiram estrear esta partilha pelo bom gosto musical do Rock Blues & Soul. Uma grande banda e uma grande voz.
Para maiores de 6 anos
Bilhetes: 8 euros
Disponíveis na Bilheteira do Fórum e na Rede Ticketline (nos seus postos de venda, parceiros e online em www.ticketline.pt).
Organização: Associação BB Blues Portugal, em parceria com a Câmara Municipal e União de Freguesias de Baixa da Banheira e Vale da Amoreira