The Bayou Moonshiners (ITA) e Hearts & Bones (PT) sobem ao palco do Fórum Cultural José Manuel Figueiredo, a 9 de fevereiro, pelas 21:30h, no âmbito da Blues Nights by BBBF. No mês em que se assinala o Dia dos Namorados (14 de fevereiro), esta Blues Night, interpretada por dois casais, vem celebrar a data.
The Bayou Moonshiners (ITA)
Em fevereiro, os sons de Nova Orleães visitam as Blues Nights.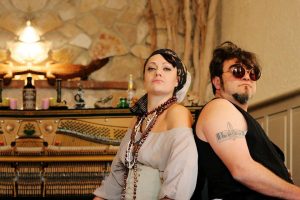 Stephanie Ghizzoni e Max Lazzarin são dois nomes conceituados no panorama italiano da música de raiz negra. Depois de liderarem, em separado, várias formações, em 2015 decidiram unir-se e criar o conceito Bayou Moonshiners. Piano, tarola e duas vozes incorporam o verdadeiro espírito de Nova Orleães.
O reconhecimento foi imediato. Venceram o Italian Blues Challenge, em 2016, e, no ano seguinte, representaram Itália, no European Blues Challenge, numa memorável atuação em Horsens, Dinamarca.
Max e Stephanie interpretam canções próprias e versões muito condimentadas com tudo aquilo que representa o imaginário do inconfundível estilo de Nova Orleães.
Hearts & Bones (PT)
Hearts and Bones são Petra Pais e Luís Ferreira, fundadores de uma das mais reconhecidas bandas de blues nacionais, a Nobody´s Bizness. Nesta noite, o público irá vê-los e ouvi-los, em dueto e em visita ao blues e à folk norte americana.
Voz, guitarra e décadas de histórias em canção é o que trazem ao público com a paixão que os tem movido sempre a prestar homenagem aos seus heróis, assim como os seus próprios temas, escritos ao longo de mais de uma década de parceria, no palco e fora dele. De Robert Johnson a Patsy Cline, de Paul Simon a Neil Young, Hearts and Bones partilham o amor à música num formato intimista e cru, em que vagueiam tanto os fantasmas do Mississippi, como os do Tejo que os viu crescer.
Regressam a um palco que bem conhecem.
Bilhete: 8 euros – disponível na bilheteira do Fórum Cultural José Manuel Figueiredo e na Rede Ticketline (nos seus postos de venda, parceiros e online, em www.ticketline.pt).
Organização: BBBP - Associação BB Blues Portugal, em parceria com a Câmara Municipal e União de Freguesias de Baixa da Banheira e Vale da Amoreira