Os vencedores do último European Blues Challenge, os holandeses The Ragtime Rumours, abrem em grande as Blues Nights by BBBF de 2019, no dia 12 de janeiro, às 21:30h, no auditório do Fórum Cultural José Manuel Figueiredo, na Baixa da Banheira. Esta noite dedicada ao Blues vai ser partilhada também com os portugueses Stonebones & Bad Spaghetti.
The Ragtime Rumours (HOL)
Com um estilo absolutamente enérgico, clássico, mas simultaneamente renovado, old-scholl ragtime, gypsyjazz e roots & blues, a banda condensa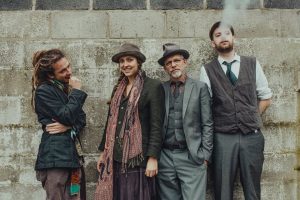 tudo isto numa atitude rock & roll, criando uma espécie de "Rag'n Roll"… são genuinamente originais.
Nos últimos dois anos, a banda produziu o aclamado EP "Ain't Nobody", tendo tocado por toda a Europa. The Ragtime Rumpours ganhou também a final do ''Dutch Blues Challenge'' e, consequentemente, representaram o seu país, em Memphis, Estados Unidos, no ''International Blues Challenge'' e também no ''European Blues Challenge 2018'', em Hell, Noruega, onde foram os brilhantes vencedores. Em outubro de 2018, lançaram o seu primeiro álbum, ''Rag 'n Roll'' (comic and other songs for smoking concerts).
The Ragtime Rumours estão a caminho do Fórum Cultural, na Baixa da Banheira, para uma noite de blues imperdível.
Guitarra acústica, voz: Tom Janssen | Contrabaixo, voz, flauta, saxofone barítono: Niki van der Schuren | Guitarra elétrica, acordeão, piano, voz: Thimo Gijezen | Bateria, kazoo, washbord, voz: Sjaak Korsten.
Stonebones & Bad Spaghetti (PT)
É considerada, consensualmente, a melhor banda de Bluegrass em Portugal.
Stonebones & Bad Spaghetti distinguem-se pela incrível energia da sua música e pelo desempenho entusiástico em palco. Ao vivo, apresentam temas inéditos, compostos ao estilo Bluegrass e cantados em português e, ainda, temas tradicionais do estilo.
Voz e guitarra: Hildebrando Soares | Banjo e dobro: André Dal | Bandolim: Bruno Lourenço | Contrabaixo: Gil Pereira.
As Blues Nights by BBBF realizam-se, mensalmente, no Fórum Cultural José Manuel Figueiredo, na Baixa da Banheira, em jeito de antevisão do grande festival de blues do concelho da Moita, BB Blues Fest, em junho, e são organizadas pela Associação BB Blues Portugal, em parceria com a Câmara Municipal da Moita e a União de Freguesias da Baixa da Banheira e Vale da Amoreira.
Os bilhetes, no valor de 10 euros, podem ser adquiridos na rede Ticketline – seus postos de venda e parceiros, online www.ticketline.pt – podendo ainda ser adquirido no próprio dia, no local do concerto, a partir das 20:00h.