O Auditório do Fórum Cultural José Manuel Figueiredo recebe, a 10 de novembro, pelas 21:30h, mais uma Blues Night By BBBF, com Jawbone (UK) & Them Sacks'a Potatoes (PT).
Jawbone (UK). Paddy Milner é reconhecido como um dos grandes pianistas de blues da atualidade. Desde cedo, começou a tocar no circuito local fazendo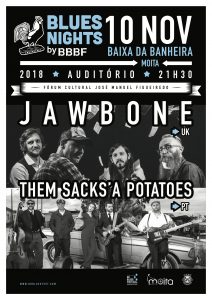 do blues e do boogie a sua linguagem, mas explorando também o jazz, o folk e a música clássica. Tocou com o lendário Jonnie Johnson e aprendeu com John Cleary, em New Orleans. O seu álbum de estreia, "21st Century Boogie", rapidamente recolheu o reconhecimento no mundo do Blues.
Desde a primeira nota de "Black Dog", dos Led Zeppelin, que Marcus Bonfanti, de dezasseis anos, sabia que queria ser guitarrista. Cresceu no norte de Londres, tocando e bebendo a influência de diversos artistas. O seu álbum de estreia de 2008, "Hard Times", confirmou todo o seu potencial e deixou pistas de uma nova voz que merecia ser escutada. "What Good Am I to You" (2010) foi incluído nos 50 melhores álbuns da revista Classic Rock de 2010. Conquistou o prémio de melhor compositor, nos "British Blues Awards", em 2012, onde conta com várias nomeações. Recentemente, integrou também a mítica Banda Ten Years After.
Além de Paddy Milner e Marcus Bonfanti, a banda é também composta por Rex Horan & Evan Jenkins. Ainda a gravar o primeiro álbum, Jawbone atua nesta Blues Night, em estreia absoluta em Portugal.
Them Sacks'a Potatoes (PT). O novo projeto nacional que todos comentam, Them Sacks'a Potatoes é uma união de músicos de diferentes projetos musicais que se encontram na casa espiritual de todos, o blues, com o intuito de recriar as raízes da música-mãe, das músicas populares (e não só) do século XX. Sara Badalo (Sam Alone & the Gravediggers, Storm & the Sun), Gito Lima (The Soaked Lamb), Miguel Lima (The Soaked Lamb), o incontornável e "nosso" Fast Eddie Nelson, João Oliveira (Blues Fever Band, Guillande) e Selmer Rodrigues (The Jukeboxers) são Them Sack's A Potatoes. Apresentaram-se no último Blues Picnic e agora visitam o auditório do Fórum Cultural José Manuel Figueiredo.
Para M/6 anos
Bilhetes: 8 euros (disponíveis nos postos de venda e parceiros da rede Ticketline, online em www.ticketline.pt e no próprio dia, no local do concerto, a partir das 20:00h)
Org: Associação BB Blues Portugal, em parceria com a Câmara Municipal e a União de Freguesias da Baixa da Banheira e Vale da Amoreira